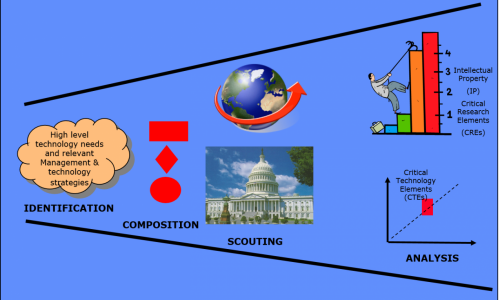 Open Innovation and Technology Transfer…
As shown in the above diagram, Infologic conducted research to develop an open innovation and  emerging technology transfer model . We employ this four stage model to help our clients to successfully transit R&D projects to commercial products.
This model also incorporates (a) NASA and Defense R&D and technology management practices, such as Critical Technology Elements (CTE) and Manufacturing Readiness Levels (MRL), that we have  scaled for manufacturing enterprises, and (b) Infologic Innovation Management methodologies.
In addition, we attend emerging technology conferences, Technology vendors & OEM technology road-map events, government laboratories technology briefings, and academia research forums to stay up-to-date with the emerging technologies.
Advanced Manufacturing and Emerging Technologies…
The U.S. President's Council of Advisor's on Science & Technology defines …
 "Advanced manufacturing is a family of activities that (a) depend on the use and coordination of information, automation, computation, software, sensing, and networking, and/or (b) make use of cutting edge materials and emerging capabilities enabled by the physical and biological sciences, for example nanotechnology, chemistry, and biology. It involves both new ways to manufacture existing products, and the manufacture of new products emerging from new advanced technologies."
It is predicted that the advanced manufacturing systems will be driven by computers that incorporate 3D printing, Internet of Things (IoT), big data, and cloud environments. Infologic solutions incorporate such environments.
Technologies
August 19, 2014